Highlights:
Glide down hills, through villages and fields to experience the north's wilderness.
What's included:

+ Your safety first!!!

+ Great Mountain Bikes

+ Support vehicle

+ Meals and accommodation as mentioned

+ Knowledgeable guides

+ Night train soft sleeper with aircon

+ Daily Departure
Price: 170USD/person


2pax minimum, Max. 8pax
All inclusive but drinks
Full time Jeep support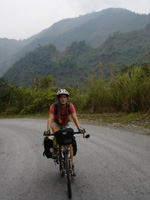 *What to bring:

+ Sun Block

+ Camera + Film

+ Rain Gear

+ Original Passport

+ Wide brim hat

+ Comfortable shoes

+ Warm clothes in winter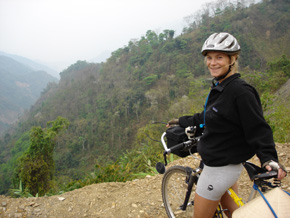 Itinerary: This exciting 2 day trip down the stunning Hoang Lien Valley takes you through the villages and into the homes of local hill tribes to experience their daily life. As you glide your mountain bike through the fresh air you'll be surrounded by dramatic vistas, dotted with the villages of H'mong, Dzay, Dzao and Tay hill tribes. As your gracious hosts, the friendly Tay people will offer you a night in their traditional stilt home, which is rustic and basic, but very clean and comfortable. Together with your guide they'll cook an unforgettable meal that you'll be raving about long after you've returned home. Keeping with tradition, be sure to share a cup of local rice wine with your wonderful hosts!

Night 1: 8:30pm Depart from your hotel to Rail way station and catch the 10:00pm night train to Lao Cai (soft sleeper with aircon), arrive 5:30 or 6:00am

Day 1 (B-L-D): Its a little over an hour bus ride up the mountain to Sa Pa, where you'll stop for breakfast then gear up and start riding at 8:00am. The ride starts by gliding downhill 9km to Lao Chai Village to visit the Black H'mong people, then continues 2km along a newly opened trail to Ta Van village to meet the local Dzay hill tribe. After lunch in Su Pan Village, ride 10Km of rocky road down the valley to Ban Ho village. Stop at the home stay of your Tay hosts to drop off gear then take a walk around the village to the waterfall for a swim. Back to the Home Stay for dinner and overnight.
***Note: During rainy conditions the trail from Lao Chai to Ta Van becomes slippery and more challenging, so, for safety reasons, we ride on the main road.

Day 2 (B-L): After breakfast, cycle 8km to Than Uyen then do a 7km loop along the trail to Nam Cang - Nam Sai villages to visit the H'mong and Dzao hill tribes before heading back to Than Uyen Village for lunch in a local house. After lunch, cycle down the stunning valley to a hanging bridge, then onto the main road to meet your jeep for a lift back up the valley to Sa Pa. Bus departs 5pm Sinh Travel office in Sa Pa to Lao Cai. Night Train back to Ha Noi, tour ends 5:30am at Ha Noi Station.