*Highlights:
Physically and culturally rewarding, this tour takes you into the heart of daily hill tribe life.
*What's included:

+ Your safety first!!!

+ Great Mountain Bikes

+ Support vehicle

+ Meals and accommodation as mentioned

+ Knowledgeable guides

+ Night train soft sleeper with aircon

+ Departs every Friday night


Price:245USD/person

2pax minimum, Max. 8pax

All inclusive but drinks
Part time Jeep support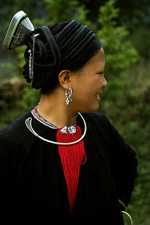 What to bring:
+ Sun Block
+ Camera + Film
+ Rain Gear
+ Original Passport
+ Wide brim hat
+ Comfortable shoes
+ Warm clothes in winter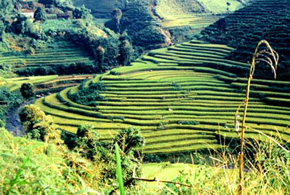 *Itinerary: A longer version of our popular 2 day market trip, this 3 day trip is designed for those who want to explore deeper into the daily life of the hill tribes in this picturesque area. On a mountain bike, you'll have a participative experience as you stop to meet locals all along the way. In this remote area that sees few tourists, home stays play an important role in bringing some prosperity into villages that otherwise would not benefit, and the experiences, knowledge and friendships you take away can help educate others about the importance of responsible tourism. The Tay people of Trung Do are warm and friendly, and the surrounding hamlet and scenery are truly breathtaking, so the memories you take from here will last a lifetime!

Friday Night: 8:30pm Depart from your hotel to the railway station and catch the 10:00pm night train to Lao Cai (soft sleeper with aircon). Arrive 5:30 or 6:00am

Sat. (B-L-D): Have breakfast in a local restaurant, then drive 100km through the steep Bac Ha Mountains to Can Cau. Take in this colourful Flower H'mong market perched high on the mountain side with an amazing view of the local valley sculpted with rice terraces and plum trees, then start cycling 12km on a single track and dirt road along a high country plateau to Lung Sui and Seng Sui Flower H'mong villages . The last 12km is an easy down hill on tar road back to Bac Ha town. Check in to your hotel and have lunch. After lunch you'll do an 8km loop around Bac Ha to visit the locals, stopping in Ban Pho village, then you'll hit a single trail and dirt road winding throuth plum gardens and rice fields, past local homes and inhabitants of the villages surrounding Bac Ha. Overnight in your Hotel in Bac Ha.

Sun (B-L-D): This day starts with the famous Bac Ha market, where colourful hill tribes gather to buy and sell their wares or just hang around trading stories and drinking the fiery home made Corn Whiskey. After lunch at the hotel you'll check out and start riding 24km down the mountain road winding its way around the steep tiered rice terraces and plum orchards. Arrive in Bao Nhai and take a 1.5hr boat ride up the stunning Chay River Valley to visit the Fairy Cave, then back down (1hr) to Trung Do village in a Tay Hamlet. You'll enjoy dinner and an overnight home stay in the village of the warm & friendly Tay People.

Mon (B-L-D): After breakfast, spend an hour walking around the hamlet to meet the locals and enjoy the breathtaking scenery. Then you'll embark on a full day of riding. Heading out of Trung Do village, ride 2km on a local trail to pick up the main road. There's a 600 meter steep climb, then 60Km of sealed, rolling road back to Lao Cai. You'll stop in the small town of Phong Hai for a lunch of local Vietnamese food. During the final 20km you'll stop near Lao Cai to visit the beautiful Upper Temple with its impressive 500+ year old Banyan tree. You'll be able to shower in Lao Cai before sitting down to dinner. Night Train back to Ha Noi. Tour ends 5:30am Ha Noi Station.