Highlights:
Glide down from atop Heavens Gate, enjoy the awe-inspiring scenery and fresh mountain air.
What's included:

+ Your safety first!!!

+ Great Mountain Bikes

+ Support vehicle

+ Meals and accommodation as mentioned

+ Knowledgeable guides

+ Night train soft sleeper with aircon

+ Departs Everyday

Price: 235USD/person

383USD Solo Trip

2pax minimum, Max. 8pax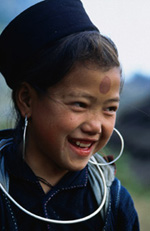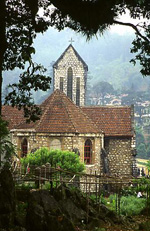 What to bring:

+ Sun Block

+ Camera + Film

+ Rain Gear

+ Original Passport

+ Wide brim hat

+ Comfortable shoes

+ Warm clothes in winter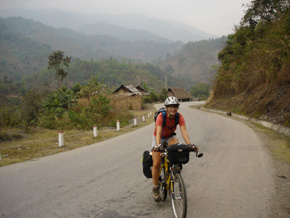 Itinerary: This wonderful itinerary takes you over the Tram Tom pass or Heaven's Gate Pass to explore the other side of Fansipan and the Hoang Lien Mountain Range. Often when Sa Pa is shrouded in cloud and fog, this side is clear and blue. The newly paved road descends 26Kms through one of the most picturesque and inspiring valleys in the North where you'll glide down through the fresh mountain air to the Binh Lu Junction. Turning off this main road will add a moderate challenge to your adventure. The sometimes rocky road meanders along the base of the mountain range past old growth forest and through the villages of Thai, H'mong and Lu ethnic minorities. The area sees few tourists, so expect plenty of curious faces and smiling children shouting 'Hello!' as you stop to meet the locals along the way.

Night 1: 8:30pm Depart from your hotel to Rail way station and catch the 10:00pm night train to Lao Cai (soft sleeper with aircon), arrive 5:30 or 6:00am

Day 1 (B - L-D): The bus ride up the mountain to Sa Pa takes a little over an hour, where you'll stop for breakfast before gearing up for your exciting ride. It's a tough climb out of Sa Pa to Heaven's gate, so your support vehicle will transfer you out to a starting point at the 'Silver Waterfall'. Then it's a 3Km climb up the highest mountain pass in Indochina where you'll stop to marvel at the spectacular view of Hoang Lien mountains before free-wheeling down 26km to Binh Lu Junction. Heading off the main road, its 20kms of sometimes rocky road to Than Thuoc, a charming little tea town where you'll spend the night in a local guesthouse.
***Note: The guest house in Than Thuoc is very basic but clean. we are currently making arrangements for a home stay in a local village.

Day 2 (B-L-D): After breakfast, your support vehicle will transfer you up a steep mountain pass to the starting point where you'll glide down 20kms to Than Uyen through valleys where the old growth forest, tea plantations and verdant rice paddies surround you during your ride. After lunch in Than Uyen, you'll have a wonderful afternoon as you explore some single track trails to visit local minority villages, including the interesting Lu people with their distinctively black teeth. Arrive back in Than Uyen for dinner and overnight in the local guesthouse.

Day 3 (B-L-D): After a good breakfast, ride 40kms around the other side of the stunning Muong Kim valley with time for lots of stops to take pictures of the local hill tribe people and the stunning scenery there. Arrive in Van Ban for a late lunch then hop on the minivan to drive back to Lao Cai. In Lao Cai you'll be able to have a refreshing shower before sitting down to a dinner of local Vietnamese food. Night Train back to Ha Noi. Trip ends 5:30am at Ha Noi Station.