*Highlights: Great combination of relaxing cruise, camping at a private beach and exploring by kayak!
+ See the best of Mystical Ha Long Bay!

+ True Sea Kayaks and certified kayak guides!

+ Night-swim in the phosphorescence.

+ Relaxing atmosphere.

+ Great Vietnamese food!

+ Leaves Everyday.

Price: 109 USD/person
Single Supplement: $15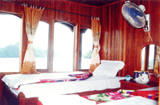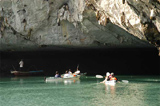 *What to bring:

+ Sun block.
+ Camera + Film.
+ Insect repellent.
+ Original Passport.
+ Wide brim hat.
+ Swimming clothes.
+ Sun glasses.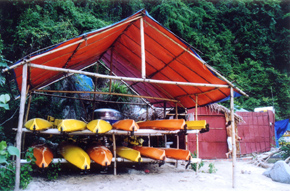 Day 1 (L-D): Pick up at your hotel. Depart Ha Noi at 8:0am and drive 3 hrs by private coach to Ha Long City, get on Bai Tu Long Junk, enjoy a welcome drink and a lunch of savoury local sea food. Check into your cabin and start on a 4 hour cruise of the bay to see the amazing karsts with different formations: Lion, Tea Pot, Toad, Dau Nguoi (Human Head) islet, and then stop for a walk through the Sung Sot "Amazing Cave". There'll be plenty of time for swimming and sunbathing (weather permitting) as you anchor for a night on the Bay. Enjoy a wonderful sunset dinner in our beautiful restaurant before retiring to the comfort of your cabin.

Day 2: After breakfast start cruising further to transfer to Camp. Take a basic skills lesson on paddling and safety from your expert guide, then start kayaking the Holy Bay. Exploring at your own pace, your guide will lead to one of the many grottoes, and tidal conditions depending, you'll paddle through the cave into its lush lagoon. Stop to relax at some of the many secluded beaches then make your way back to the base camp and enjoy a fresh water shower. You may have time to toss the frisbee on the beach before dinner, and there's always time for a swim! After a great dinner of Vietnamese food, layback on the beach and enjoy the serenity of this peaceful place before heading to your cosy hut.

Day 3 (Brunch): Go back to start cruising at 8am to a floating fishing village to see this unique way of life, continue to a quiet firth for swimming (9-9:30am). Fresh fruit, coffee and tea will be available for early risers. You'll spend the morning cruising Ha Long Bay, and Bai Tu Long Bay, the neglected area which is the most spectacular bay with islands in different shapes, then you have a look at Hon Gai market, Poem Island. Arrive at the habour by 11.30am Ha Long city for lunch in the restaurant 1pm, going back to Ha Noi. Arrive in Ha Noi around 4:00pm.